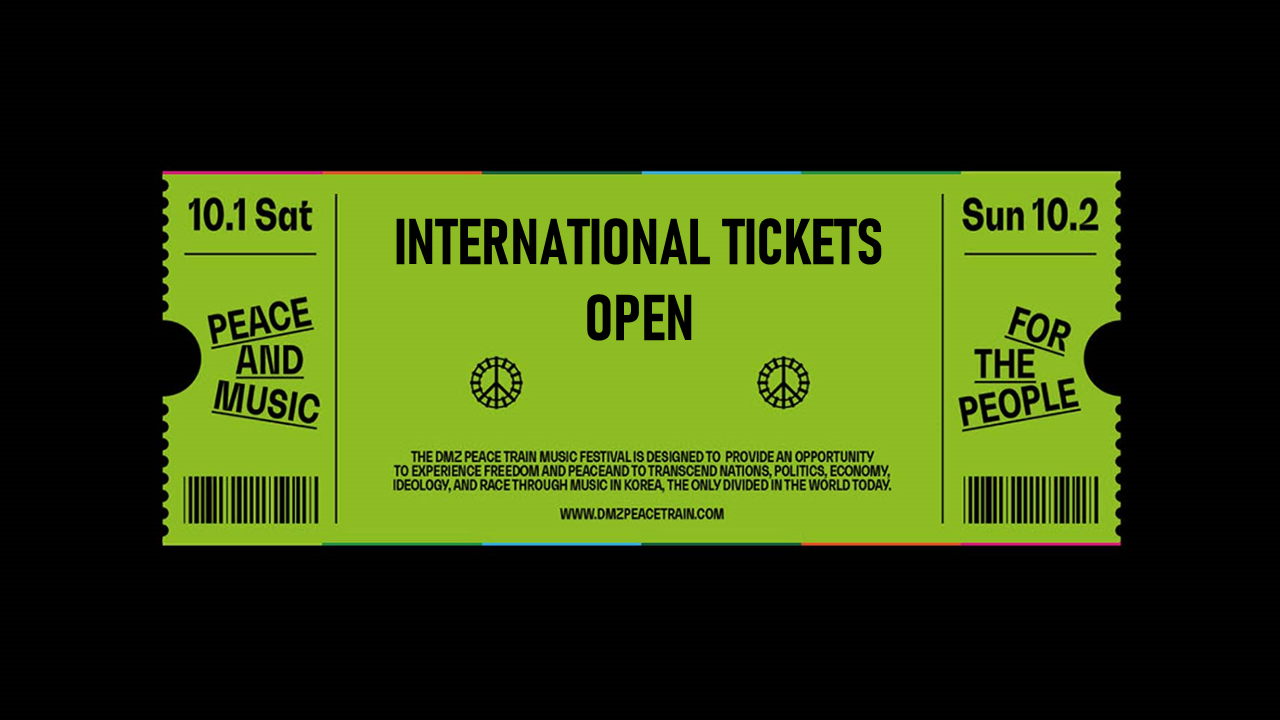 * Eventbrite는 한국어 티켓 구매가 어려운 분들을 위한 예약 사이트이며 한국어 티켓 구매는 멜론티켓을 통해 예약하시기 바랍니다.
About this event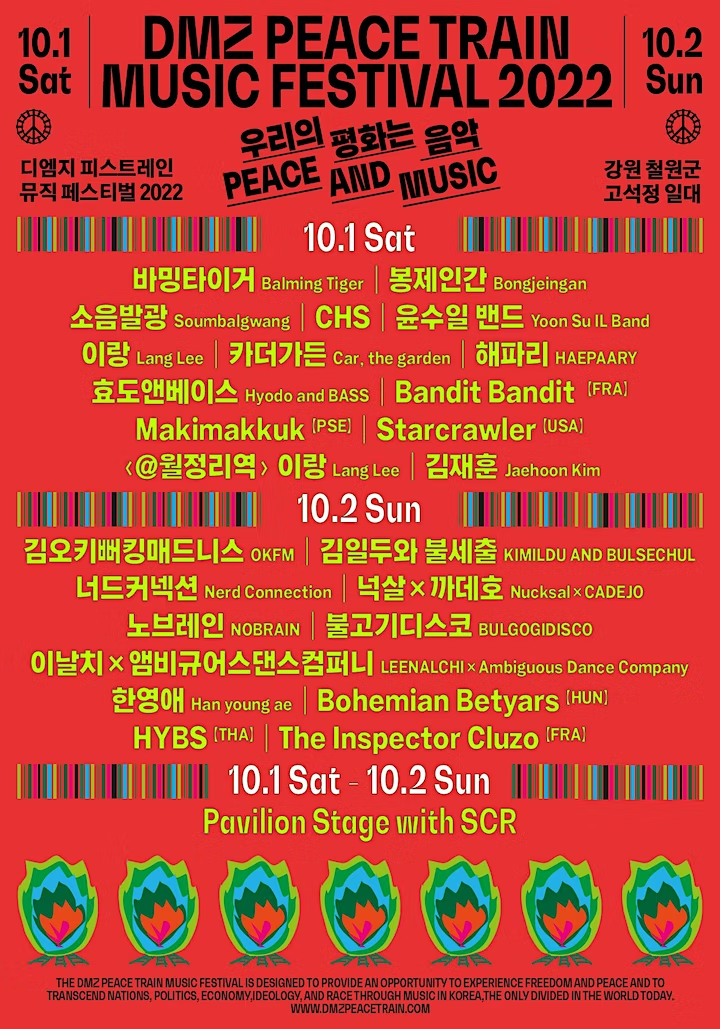 DMZ PEACE TRAIN MUSIC FESTIVAL 2022
Peace Train is a music festival singing songs of peace, held in the Cheorwon, Gangwon Province DMZ area of Korea, the world's only divided nation. It takes place for just five days of the year. Peace Train was started with this purpose: "Through music, let's transcend politics, economy, ideology, and experience freedom and peace." Peace Train hopes that through culture, we can continue to rediscover the things in our lives to which we become indifferent and numb, and to pass on values such as freedom, peace, human rights, and tolerance to future generations.
▶MAIN INFORMATION
The Peace Train Festival aims to operate at least but be a fluent event. To do this, please understand each other to be a better event and keep the festival etiquette.

Due to COVID-19 (Aug 18, 2022), according to the government guidelines and detailed regulations of COVID-19, all audiences must put on masks.

The quarantine guidelines of the government about the festival will be strengthened or eased, so according to the guideline change, the operation regulation in the event location or re-purchasing tickets will be changed. For more information, it will be noticed by the official festival channel.

Some line-ups, festival schedules, and festival times may be changed due to inevitable situations due to COVID-19 or others, and refunds or partial refunds are unavailable

.
▶

RESERVATION INFORMATION
A one-day pass is reserved for a specific date. You may only attend on the day for which you make a reservation. Please be sure to check the reserved date.

There is a four-ticket limit per person.

Preschool children (age 7 and under) accompanied by a parent or guardian may attend the festival without separate reservations.

When making a reservation, please use the name listed on your passport or ARC (alien registration card). You may be denied entry at check-in if the name on the ticket does not match.

Reservations through Eventbrite are only available for non-Korean citizens. Korean nationals reserving through Eventbrite may be denied entry at check-in.
▶ON-SITE & ENTRANCE INFORMATION
[Ticket Booth Office Hours] 12 p.m – the day of the last festival starts
Check the ticket booth (MUST bring ID and purchase history) and then receive and wear the wristband ▶ wear the adult-verified wristband (Booth) ▶ Enter

Goseokjeong square is operated as a standing zone for all seats, and there are many convenient facilities around it. For more detailed site map will be announced on the website and social media.

You can't keep your seat, and please move with your belongings, including mats when you move.

The festival will keep held in general rainy weather unless there are major social issues or natural disasters. You can't cancel or change the ticket on the same day.
[Door Open (Enter)] About 2 p.m – will be marked on the timetable. TBA.
You can receive the ticket at "Ticket Exchange" in the ticket booth on the day.

The Ticket Booth will open at 12 p.m on the day. (If there is a change, will be announced again)

When you get the ticket, you should bring both your ID and purchased information (Available ID: Residence ID, Passport, and Driver's License)

This festival is G-rated and no need for a ticket for minors (born after 2016) when accompanied by a guardian.

If you don't bring both or either purchased history and ID, you don't get the ticket and the wristband. If you lost the wristband, we don't give it again, so please keep it safe.
▶OTHER INFORMATION
You can buy all alcoholic beverages after checking your ID at each liquor booth. If you would like to buy them, please bring your ID. (Adult verification booth is next to the ticket booth)

It is prohibited to bring items to the festival that bothers watching the festival and harms others such as glass bottles and cans. Please understand in advance that we will check all prohibited items or food at the entrance of each stage.

No Smoking all festival areas, please smoke in a designated area.
▶HOW TO GET THERE
Festival Location: Taebong-ro 1825 (Goseokjeong) Dongsong-up Cheolwon-gun Gangwon
Intercity Bus /Express Bus [Seoul]
Dong Seoul Bus Terminal ▶ Dong Song Bus Terminal /Shin Cheolwon Bus Terminal (About 150m)

Seoul Express Bus Terminal ▶ Shin Cheolwon Bus Terminal (About 120m)

Suyu Bus Terminal ▶ Dong Song Bus Terminal / Shin Cheolwon Bus Terminal (About 120m)
*
A free shuttle will be provided from the bus terminal to Goseokjeong.
* The paid shuttle bus is accompanied by 'GGOGGAMA'. More info (Korean): https://www.ggoggama.com/#/